Solón y sus intérpretes: poesía, historia y mitología en el debate sobre las contingencias del poder
Palavras-chave:
Solón, poesía, elegía, épica, lírica, historia, filosofía.
Resumo
Solón no sólo es reconocido como poeta y legislador, integrante de los denominados "siete sabios", sino que también ha sido personaje dentro de la poesía coral y de la narrativa histórica. Poetas e historiadores crearon un personaje, Solón, que reflexiona acerca del poder y de las contingencias de los poderosos. De este modo, la poesía elegíaca solónica encuentra intérpretes variados, que transmiten sus conceptos sociopolíticos mediante géneros diversos como son la lírica y la historia y con diferentes intenciones.
Downloads
Não há dados estatísticos.
Referências
ADKINS, A. W. H. Poetic craft in the Early Greek Elegists. Chicago; London: The University of Chicago Press, 1985.
ALMEIDA, J. A. Justice an Aspect of the Polis Idea in Solon's Political Poems. A Reading of the Fragments in Light of the Researches of New Classical Archaeology. Leiden; Boston: Brill, 2003.
ANHALT, E. Katz. Solon the Singer. Politics and Poetics. Lanham: Rowman and Littlefield Publishers, 1993.
ARISTÓTELES. Constitución de Atenas. Edición bilingüe de Alberto Bernabé. Madrid: Abada Editores S. L., 2005.
BLOK, J. H.; LARDINOIS, A. P. M. H. (Ed.). Solon of Athens. New Historical and Philological Approaches. Leiden; Boston: Brill, 2006.
BURNET, I. Platonis Opera. Oxford: Oxford University Press, 1982. t. IV.
CHIASON, Ch. Myth, Ritual, and Authorial Control in Herodotus' Story of Cleobis and Biton (Hist. 1.31). American Journal of Philology, v. 126, p. 41-64, 2005.
CHIASSON, C. C. The Herodotean Solon. Greek, Roman and Bizantine Studies, v. 27, n. 3, p. 249-262, 1986.
COSTA, I. Creso y Solón en el espejo de la Atlántida platónica, Synthesis, v. 14, p. 71-89, 2007.
DOMÍNGUEZ MONEDERO, A. Solón de Atenas. Barcelona: Editorial Crítica, 2001.
FAIRWEATHER, J. Fiction in the Biographies of Ancient Writers, Ancien Society, v. 5, p. 231-275, 1974.
GENTILI, B.; PRATO, C. (Ed.). Poetae Elegiaci. Testimonia et Fragmenta. München; Leipzig: K. G. Saur Verlag, 1988.
GERBER, D. E. Greek Elegy Poetry. Cambridge, MA; London: Harvard University Press, 1999.
GRAZIOSI, B. Inventing Homer. The Early Reception of Epic. Cambridge: Cambridge University Press, 2002.
HESIOD. The Homeric Hymns and Homerica. Edición y traducción de H.G. Evelyn-White. London; Cambridge, MA: Harvard University Press, 1950.
HOW, W. W.; WELLS, J. Commentary on Herodotus, v. I (Books I-IV). Oxford; New York: Oxford University Press, 2002.
IRWIN, E. Solon and Early Greek Poetry. The Politics of Exhortation. Cambridge: Cambridge University Press, 2005.
LEFKOWITZ, M. The Lives of the Greek Poets. Londres: Duckworth, 1981.
LEGRAND, E. Hérodote. Histoires. Livre I. Paris: Belles Lettres, 1993.
LEWIS, J. Solon The Thinker. Political Thought in Archaic Athens. Londres: Oxford University Press, 2006. MACIEL DE BARROS, G. N. Solón de Atenas. A Cidadania Antiga. São Paulo: Humanitas; FFLCH/USP, 1999.
MAEHLER, H. Die Lieder des Bakchylides. Leiden: E. J. Brill, 1982.
MARTIN, R. The Seven Sages as Performers of Wisdom. In: DOUGHERTY, C.; KURKE, L. (Ed.). Cultural Poetics in Archaic Greece. Cambridge: Cambridge University Press, 1993.
MÜLKE, C. Solon Poilitische Elegien und Iamben (Fr. 1-13; 32.37 West) Einleitung, Text, Übersetzung, Kommentar. Munich; Leipzig: K. G. Saur, 2002.
NAGY, G. Pindar's Homer. The Lyric Posesión of an Epic Past. Baltimore; London: The John Hopkins University Press, 1990.
NOUSSIA, M. Solone. Frammenti dell´opera poetica. Milán: Biblioteca Universqale Rizzoli, 2001.
OLIVA, P. Solon. Legende und Wirklichkeit. Constanza, 1998.
PELLING, C. Educating Croesus: Talking and Learning in Herodotus' Lydian Logos, Classical Antiquity, v. 25, p. 141-177, 2006.
RAALAUB, K. Homer and Solon: The Rise of the Polis. The Written Sources. In: HANSEN, M. H. (Ed.). The Ancient Greek CityState (Symposium on the occasion of the 250th Anniversary of the Royal Danish Academy of Sciences and Letters. July, 1-4 1992. Copenhague: Munksgaard, 1993. p.41-105.
TURYN, A. Pindari Carmina cum Fragmentis. Oxford: Blackwell, 1952.
WEST, M. (Ed.). Iambi et elegi Graeci ante Alexandrum cantati II. Oxford: Oxford University Press, 1992.
WILAMOWITZ, U. von. Die Ilias und Homer. Berlín: Weidmann, 1916.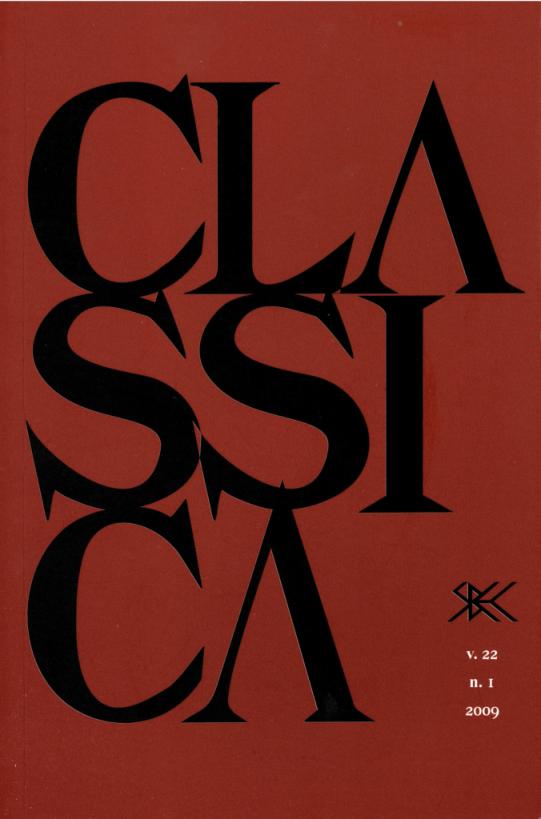 Downloads
Como Citar
Tobia, A. M. G. de. (2009). Solón y sus intérpretes: poesía, historia y mitología en el debate sobre las contingencias del poder. Classica - Revista Brasileira De Estudos Clássicos, 22(1), 109–123. https://doi.org/10.14195/2176-6436_22-1_7
Licença
Autores que publicam nesta revista concordam com os seguintes termos:       
a. Autores mantém os direitos autorais e concedem à revista o direito de primeira publicação, com o trabalho simultaneamente licenciado sob a Creative Commons Atribuição 4.0 Internacional (CC BY 4.0) que permite o compartilhamento do trabalho com reconhecimento da autoria e publicação inicial nesta revista.
b. Autores têm autorização para assumir contratos adicionais separadamente, para distribuição não-exclusiva da versão do trabalho publicada nesta revista (ex.: publicar em repositório institucional ou como capítulo de livro), com reconhecimento de autoria e publicação inicial nesta revista.
c. Autores têm permissão e são estimulados a publicar e distribuir seu trabalho online após o processo editorial (ex.: em repositórios institucionais ou na sua página pessoal), já que isso pode gerar alterações produtivas, bem como aumentar o impacto e a citação do trabalho publicado (Veja O Efeito do Acesso Livre).
d. Autores autorizam a cessão, após a publicação, de seu conteúdo para reprodução em indexadores de conteúdo, bibliotecas virtuais, bases de dados de acesso público e similares.