Recepção do mundo epistémico da Antiguidade na historiografia Renascentista (performance humanista): as Collectaneas e os loci communes
Resumo
O Renascimento revaloriza os pressupostos da Antiguidade, num processo de imitatio em que recupera códigos e actualiza matrizes estético-literárias. O Humanismo quinhentista exibiu o seu máximo fulgor nas aspirações morais, problematizações filosóficas, aliadas a um laborioso e escrupuloso trabalho filológico de tradução e análise dos clássicos. Os humanistas, apercebendo-se do potencial desta uox universalis ao serviço da performance pedagógica, imprimem uma nova concepção historiográfica, central na Ratio Studiorum e na difusão das litteris humaniores. Proliferam por toda a Europa colectâneas, um género fértil não só pelo seu carácter enciclopédico, pois organiza e compagina o legado clássico em loci communes, mas também porque giza a educação integral do indivíduo. Refinando a nossa análise, devemos ainda reconhecer que na historiografia renascentista tece-se uma (inter)dependência entre retórica e a dialéctica, que se consubstancia e funde na res et uerba, o programa do humanismo filológico.
Palavras-chave
Imitatio; performance retórica; loci communes; princípio filológico; res et uerba.
Referências
AGRICOLA, Rodolf. De inventione dialéctica libri três (ed. princ. 1515), ed. crítica e trad. alemã de Lothar Mundt. Tübungen: Max Niemeyer, 1992.
BARTHES, Roland. Le degré zero de l'écriture. Paris: Seuil, 1972.
BARTHES, Roland. Littérature et discontinnu. In: ______. Essais critiques. Paris: Seuil, 1964. p. 175-187.
BOUWSMA, W. The Interpretation of Renaissance Humanism. Washington: Service Center for Teachers of History, 1959.
BUISSON, F. Répertoire des ouvrages pédagogiques du XVI siècle. Paris: Nieuwoop, B. de Graaf, 1968.
BURCKHARDT, J. The Civilization of the Renaissance in Italy. New York: Harper Torchbooks, 1958.
CAMPANA, A. The origin of the word Humanist. Journal of the Warburg and Courtauld Institutes, v. 9, p. 60-73, 1946.
CASSIRER, E.; KRISTELLER, P. O. RANDALL, J. H. (Ed.). The Renaissance Philosophy of Man. Chicago: The University of Chicago Press, 1948.
CASTRO, Aníbal Pinto de. Retórica e teorização Literária do Humanismo ao Neoclassicismo. Lisboa: Centro de Estudos Românicos, Imprensa Nacional – Casa da Moeda, 2008.
CAVE, Terence Cornucopia – Figures de l'abondance au XVI siècle: Érasme, Rabelais, Ronsard, Montaigne. Paris: Macula, 1997. (Collection Argô)
CONLEY, T. Rhetoric in the European Tradition. Chicago: University of Chicago Press, 1990.
DÄLLENBACH, Lucien. Intertexte et autotexte. Poétique, v. 27, p. 282-296, 1976.
FERGUSON, Wallace K. The Renaissance in Historical Thought. Boston: Houghton Mifflin Co., 1948.
GARIN, E. L'éducation de l'homme moderne: la pédagogie de la Renaissance 1400-1600. Paris: Fayard, 1968.
GARIN, E. La dignitas hominis e la letteratura patrística. La Rinascita, v. 1, n. 4, p. 102-146, 1938.
GRAFTON, A. T.; JARDINE, L. From Humanism to the Humanities. London: Harvard University Press, 1986.
GREEN, L.; MURPHY, J. Renaissance Rhetoric Short Title Catalogue, Aldershot UK; Burlington, USA: Ashgate, 2006.
KRISTELLER, P. Oskar Renaissance concepts of man and other essays. Toronto: Fist Harper Torchbook Edition, 1972.
KRISTELLER, P. O. The Humanistic Movement. Renaissance Thought and its Sources, New York: Columbia University Press, 1979.
KRISTELLER, P. O. Studies in Renaissance Thought and Letters. Rome: Edizioni di Storia e Letteratura, 1956.
KRISTELLER, Paul Oskar. Renaissance thought: the classic, scholastic and Humanist Strains. New York: Harper & Brothers, 1961.
MACK, Peter. A History of Renaissance Rhetoric 1380-1620. New York: Oxford University Press, 2011.
MACK, Peter. Renaissance Argument. Valla and Agricola in the Traditions of Rhetoric and Dialectic. Leiden; New York; Koln: E. J. Brill, 1993.
MEERHOFF, Kees. Agricola et Ramus: Dialectique et Rhétorique. In: AKKERMAN, F.; VANDERJAGT, A. J. (Ed.). Rodolphus Agricola Phrisius 1444-1485. Proceedings of the International Conference at the University of Gröningen (28-30 October 1985), Leiden; New York; Kopenhagen: E. J. Brill, 1988.
MELANCHTHON, Philipp Encomion Eloquentiae. In: BRETSCHNEIDER, C. (Ed). Corpus Reformatorum. Halle: Halis Saxonum, 1843. v. XI, p 55.
MONFASANI, J. Humanist Rhetoric. In: RABIL, A. (Ed.). Renaissance Humanism: Foundations, Forms and Legacy. Philadelphia: University of Pennsylvania Press, 1988. 3 v. p. 171-235.
MURPHY, J. J.; NEWLANDS, C. (Ed.). Arguments in Rhetoric Against Quintilian: Translation and Text of Peter Ramus's Rhetoricae distinctiones in Quintilianum (1549). Northern: Illinois University Press, 1986.
PATER, W. Studies in the History of the Renaissance. London: MacMillan and Co, 1873.
RIFFATERRE, M. Fonction du cliché dans la prose littéraire. In: ______. Essais de stylistique structural. Paris: Flammarion, 1971.
SOARES, Nair de Nazaré Castro. A Historiografia do Renascimento em Portugal: Referentes Estéticos e Ideológico Humanistas. In: THOMAZ, Luís Filipe F. R. (Ed.). Aquém e Além da Taprobana, Estudos Luso-Orientais à memória de Jean Aubin e Denys Lombard. Lisboa: Centro de História de Além-Mar, 2002.
SOARES, Nair de Nazaré Castro. Humanismo e História: ars scribendi e valor do paradigma. Máthesis, Universidade Católica Portuguesa, v. 1, p. 153-169, 1992.
SOARES, Nair de Nazaré Castro. Um ideal Humano: política e Pedagogia no renascimento Português. Humanitas, Coimbra, separata, v. 41-42, p. 121-156, 1990.
ULLMAN, B. L. Studies in the Italian Renaissance. Rome: Edizioni di Storia e Letteratura, 1955.
VICKERS, B. Epideictic and Epic in the Renaissance. New Literary History, v. 14, p. 497-537, 1983.
VIVES, J. L. De causis corruptarum artium. Ed bilingue latim-alemão de E. Hidalgo-Serna. München: Fink, 1990.
WOODWARD, W. Studies in Education during the Age of the Renaissance. Cambridge: Cambridge University Press, 1906.
SOARES, Cipriano. De Arte Rhetorica Libri tres ex Aristotele, Cicerone & Quintiliano praecipue deprompti. Conimbricae, 1562.
DOI:
https://doi.org/10.14195/2176-6436_23_7
Métricas do artigo
Metrics powered by PLOS ALM
Apontamentos
Direitos autorais 2013 Ana Isabel Correia Martins

Esta obra está licenciada sob uma licença
Creative Commons Atribuição 4.0 Internacional
.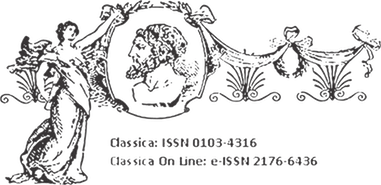 Classica está licenciada sob a Creative Commons Atribuição 4.0 Internacional